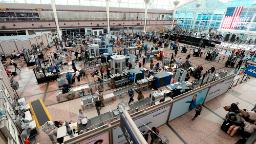 As more than 2,000 flights have been canceled Monday, European airlines are experiencing a small number of cancellations amid record-breaking numbers of Covid-19 cases in several European nations.
A British Airways spokesperson told CNN on Monday that the airline had canceled "a number of flights due to operational constraints," ​and are instead using larger aircrafts, where possible, to get customers to their destinations. According to tracking website FlightAware, 45 flights from British Airways were canceled on Monday.
Virgin Atlantic told CNN that flying continues "as scheduled," noting the exception of one of its London to New York City rotations, which saw cancellations on Dec. 21. A Virgin Atlantic spokesperson told CNN, "We continue to take pre-emptive measures to uphold operational and staffing resilience, always putting the health and safety of our customers and people first."
Scandinavian Airlines told CNN it has seen "a small number of daily cancellations on Christmas day and onwards," acknowledging that the airline had "experienced an increased sick leave due to more people experiencing symptoms and staying home like recommended."
Lufthansa was also forced to cancel some long haul flights to North America.
Iberia said there have been no cancellations ​to their flights so far.
More than 2,000 flights ​worldwide have been canceled Monday as Covid-19 cases surge across the globe, according to tracking website FlightAware. 
Of the nearly 2,200 canceled flights, more than 700 were within, into or out of the United States, according to FlightAware. More than 3,000 flights are delayed. 
Globally, airlines canceled more than 6,000 flights on Christmas Eve, Christmas and the day after Christmas. In the United States, more than 1,200 flights were canceled and more than 5,000 were delayed on Sunday alone, with staff and crew calling out sick.